As temperatures rise, many home and business owners are considering options to cool their roof during the hot summer months. If you're interested in replacing the roof for your commercial building or home soon, consider a cool roof option. These reflective shingles and other roofing materials can lower roof temperatures by up to 50 degrees, cooling the home, lowering peak electricity demand and costs, and even helping the surrounding air stay cooler, if several buildings in the area utilize cool roofs. Read on to learn more about how to cool your roof in the summer.
Cool Roof Benefits
According to the Department of Energy, installation of a cool roof can provide multiple benefits, including the most obvious: cooling your building below the roof! Especially in areas without air conditioning, such as garages or patios, cool roofs can allow for a more temperate space on hot days. For rooms with A/C, having a cool roof, combined with good insulation, can reduce the load on HVAC systems and, in turn, reduce energy costs.
For low-slope and flat roofs, including many commercial buildings, the Oak Ridge National Laboratory provides a Cool Roof Calculator that allows you to estimate the energy savings you could reap by switching from a flat black roof to a cool roof.
In densely-populated areas with many buildings and paved surfaces, cool roof solutions on multiple buildings can counteract what is known as the "urban heat island effect," where the radiant heat raises the ambient air temperature several degrees in the vicinity.
Residential Cool Roof Options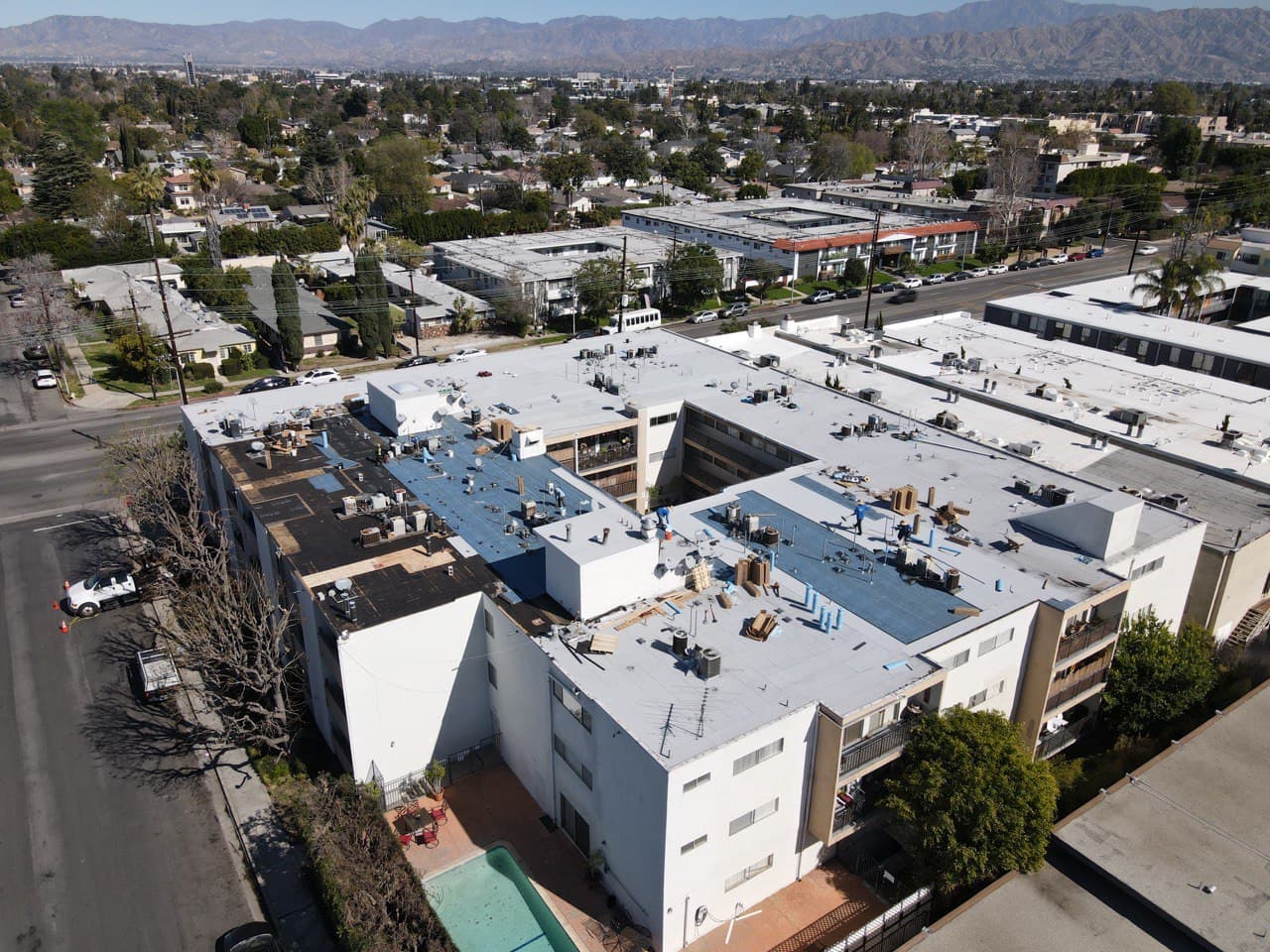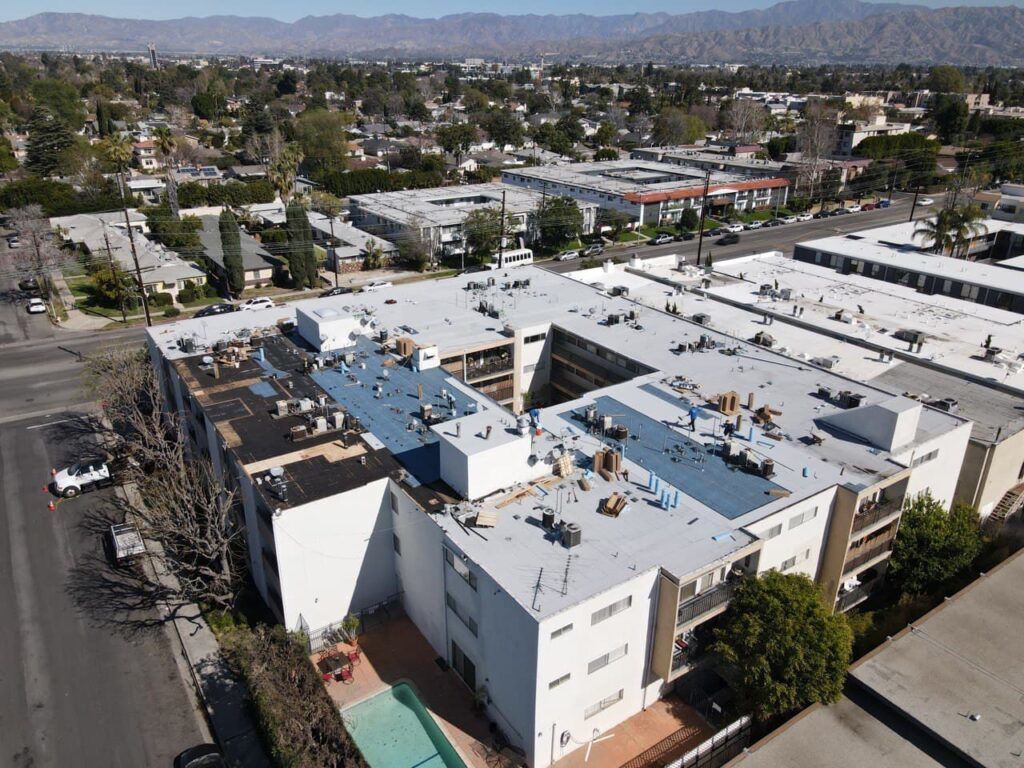 For residential properties, homeowners have several options for materials that will help reflect sunlight and heat to keep the roof cool in summer. These include asphalt shingles, tile roofs, and painted metal roofs.
Asphalt shingles are generally well-suited for reflecting sunlight, but choosing a lighter color for your roof or selecting a shingle with specially-coated reflective granules can lower the heat absorption of the shingles. Tile roofs are even better at reflecting heat than asphalt shingles–one of the reasons why they are so popular in hot climates–and can be further improved with surface treatments. Metal roofs have high reflectivity, but also high thermal conductivity, which can negate or even overcome any benefit of the former. To qualify as a cool roof, a metal roof should be painted or coated with a cool reflective coating.
Installing solar panels already contributes to energy savings, but it also can have the added benefit of cooling your roof. Solar panels are usually installed on the sunniest side of the home, and the panels can both contribute to reflection of excess heat and the conversion of solar energy to electricity, rather than heat on the roof. Other methods of cooling your roof that don't involve changing the roofing material include improving attic ventilation and insulation, as well as planting shade trees. Obviously, a large enough tree will take decades to grow to a sufficient height, so other methods can provide a short-term solution.
Commercial Cool Roof Options
On commercial and other low-slope roofs, good cool options include changing the formulation or coating of single-ply membranes, built-up roof surface layers, and modified bitumen sheet membranes to make the color lighter and/or more reflective. Paints and coatings with reflective mineral granules can be applied over asphalt or bitumen roofing materials to reflect sunlight and heat.
Another cool roof option for buildings with flat roofs is a green roof, or a roof planted with grass, bushes, or even food gardens. The soil itself remains cool, the regular watering of the plants promotes cooling, and the plants themselves serve to absorb sunlight and cool the air around them. These roofs are becoming especially popular in densely populated urban areas, where the urban heat island effect is particularly acute. They also can become pleasant recreational areas or even community food sources, if landscaped with the right plants. Alternatively, a simple green roof can provide many benefits, even if only for cooling, rather than aesthetics or agriculture.
Is a Cool Roof Solution Right For Your Home?
If you are looking to reduce energy usage and costs while reaping the many benefits of a new cool roof, give Golden City Remodeling a call at 310-361-3271. At GCR, we use only the highest-quality roofing materials for our projects, which is why we rely on Owens Corning's Cool Roof Collection and CertainTEED's Solaris products when clients are looking to install a cool roof. We have extensive experience in roof replacement for both residential and commercial projects, and our project managers can provide advice on how to cool your roof in the summer and work with you to install a solution that fits your needs.